By Sean Smith on Aug 9, 2018 4:46:29 PM
You want to get the most out of every action you take for your business and learning who to invite and how to schedule a WebMeeting using Evo Engage can up the value of your effort. You just need to plan head.
Not everyone needs to attend every meeting, so who should you invite? It's best to narrow down your audience for each webmeeting so you can have short, on-topic calls to get the most attendance, engagement, and biggest bang for your buck. Create separate WebMeetings for different audiences and be sure to use your time wisely. Here are some ideas of the groups you might want to meet with and the topics you might want to cover:
Prospects. Share your story and opportunity.
Customers. Tell them about specials you're having. Share tips for using your products.
Team members. Plan, share, and strategize together as a team.
Plan ahead and make sure you're covering only information that pertains to that one group of people. While you're making your plan, summarize it in writing. Create and send out an agenda to each attendant so everyone knows what they're committing to when they accept your invitation.
When you know what you're going to cover and who you want to invite, you're ready to learn how to schedule your WebMeeting:
Open the Evo Engage app.
With My Business selected in the main menu, click WebMeeting in the upper-right corner.
Click Schedule Meeting.

In the Schedule box that appears, give the WebMeeting a descriptive name.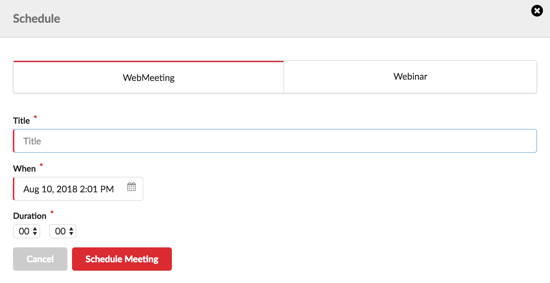 Remember: when your invites know what they're signing up for, they're more likely to commit to the full duration.
Fill in details about when you're holding the meeting and how long it will take.
Practice ahead of time to get a solid estimate of the time commitment you're asking attendees to make.
Click Schedule Meeting, then click Send Invites.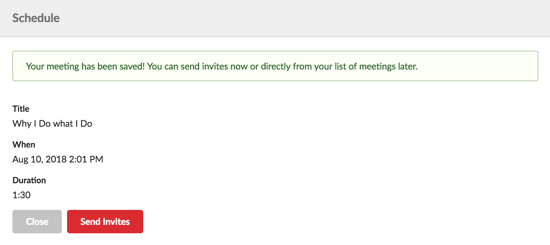 If you want to use Evo's reports, business groups, and filters to select your audience, click Send from Message Center.

Or
If you want to send the invites in an email, click Send from Email.
Add the guests you want to invite.
Before you click Send, edit your message to include your summary of what you'll be presenting.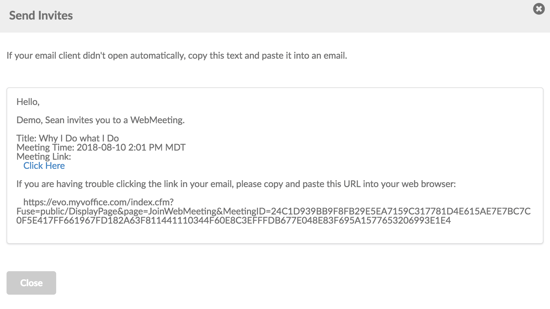 That's all there is to it! Now your WebMeeting is set up and ready to go when the scheduled time comes. Try it out today! And if you're on Evo but you're not already an Evo Engage subscriber, check with your company for free trial.