By Sean Smith on Sep 25, 2018 3:10:06 PM
Give yourself more time to spend however you chose by using and sharing WebMeetings. Every WebMeeting in Evo Engage is recorded and saved so you can record once and use it again and again. Share your message with as many people and on as many platforms as you choose!
Did someone miss your last meeting? No problem. You can send them a recorded video and let them catch up when they have time.
Use WebMeetings to teach, motivate, and inform your downline at any time. Record a WebMeeting that answers frequently asked questions and share the video whenever one of them comes up. Record multiple WebMeetings on ideas and strategies your distributors need at different stages of their careers and share them endlessly.
Sharing recorded meetings is easy. Here's how:
Open the Evo app.
With My Business selected in the main menu, click WebMeeting in the upper-right corner.
Scroll down the page to the list of Recorded Meetings.
On the row where you see the meeting you want to share, click the envelope button.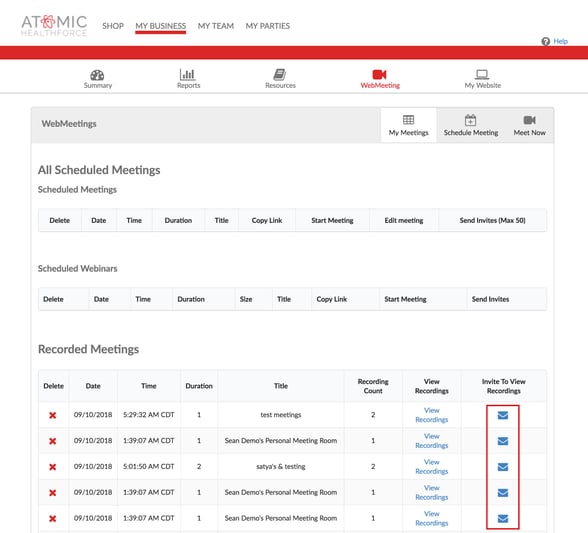 Click Send from Message Center. You can now specify your recipients, review, or change the message, and then click Send.

-Or-
If you want to send the recorded WebMeeting from email, click Send from Email, then address the email and make any necessary changes before you send it.
Now anyone can watch your recorded meeting any time you send it to them. If you've held any WebMeetings, you'll already have those listed under Recorded Meetings. Try sending one to yourself today and see how easy it is. Then dust off your bike, call a friend and spend time doing the things you really want to do. If you don't have Evo Engage, check with your company for a free trial.